The distinctive features of this recipe are the mix of three different types of meat (you could use any meats you like, not just the ones mentioned in the recipe) and the pleasant acidity from the capers, olives, pickled cucumbers, and lime. All this makes a very nice complex flavor.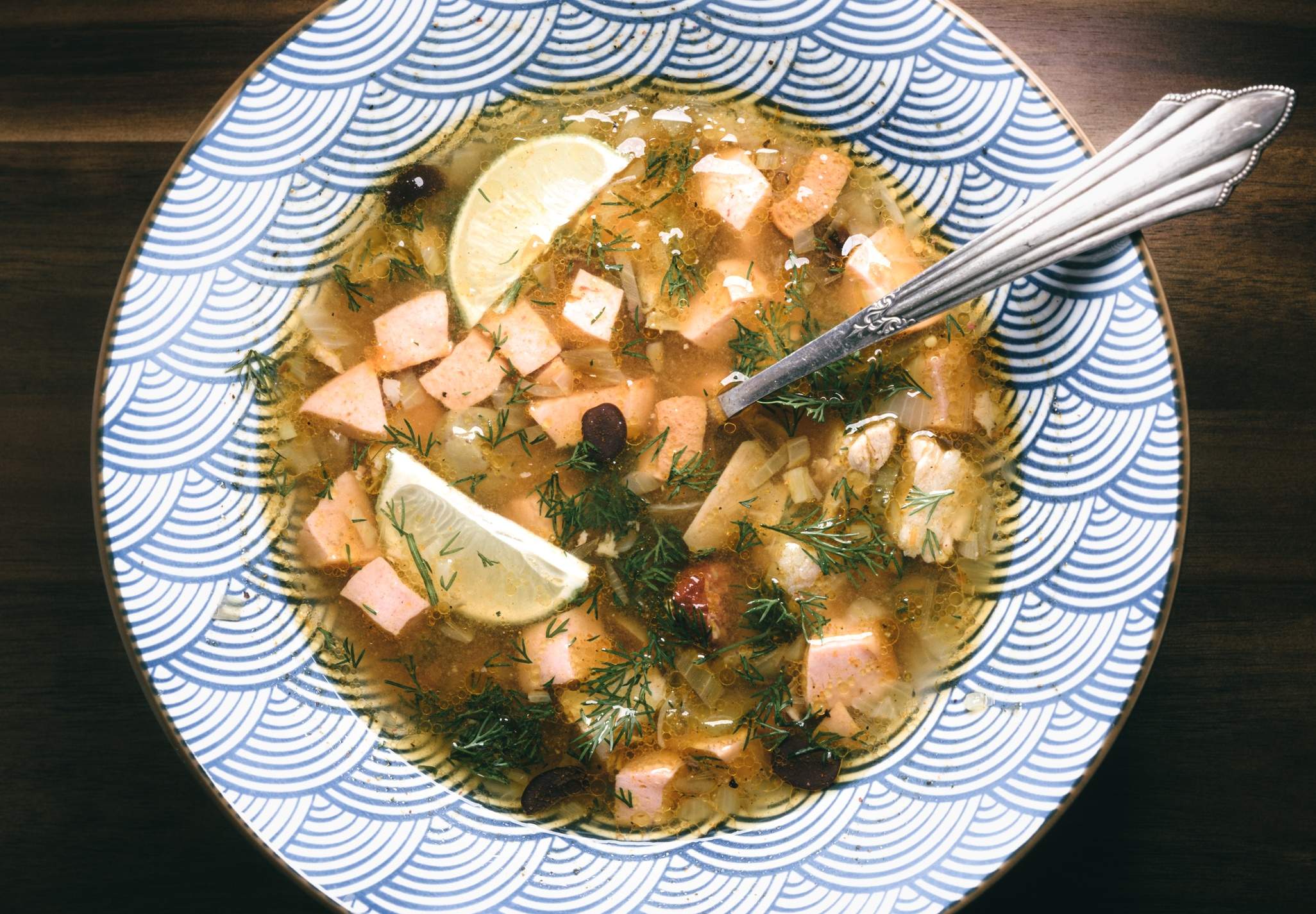 Ingredients
Yields 4 portions
200 g of pork
150 g of ham
2 smoked sausages
4 tomatoes
2 cloves of garlic
1 onion
8 olives
2 tablespoons of capers
4 bay leaves
black peppercorns
smoked bell peppers
olive oil
salt
freshly ground black pepper
Directions
Rinse the pork in cold water, cut into big chunks, put it into a pot, and cover it with 2 liters of water. Add salt, 4 bay leaves, a few peppercorns, and cook until soft on medium heat, for about 30 minutes after the water starts to boil.

Preheat oven to 200 ˚C.

While the pork is cooking, cut the ham and the sausages into 1 cm cubes.

Distribute the ham and the sausages on a baking sheet, and bake in the oven for 10–15 minutes.
While the meats are cooking, prepare the vegetables: Tomatoes: quarter and remove the roots. Garlic: smash and peel. Onion: peel and cut into small dice. Olives: thinly slice.

When the pork is ready, remove it from the broth and let it cool.

Blend the tomatoes and the garlic using a blender.

Sauté onion on a frying pan with olive oil, on medium heat, for 2–3 minutes, until transparent.

Transfer the ham and the sausages into the pot with the broth (try to avoid transferring fat on the bottom of the baking tray).

Cut the pork into 1 cm cubes, and transfer to the pot with the soup.

Add the onion and tomato sauce to the pot with the soup, and start heating the soup again.

Once the soup in the pot boils, add the olives and the capers.

Boil the soup for about 5 minutes, stirring occasionally, and remove from the heat.

Season with more salt, freshly ground black pepper, and smoked paprika to taste.

Prepare the vegetables for serving. Scallion: thinly chop. Lime: cut into 8 sectors. Pickled cucumbers: thinly slice.

Serve: add into each plate of the soup a handful of chopped scallions, two sectors of lime, and one sliced pickled cucumber with 2 tablespoons of its liquid.
Notes & tips
The easiest way to peel garlic is to smash it: put a clove of garlic on a cutting board, put your chef's knife on top of it so the blade side lays on the clove, and hit the side of the knife with your hand. Now you could peel the clove.
Explore ingredients

Ingredients explorer

Name
Kind
Season
Contains
Bay leaf
Vegan
Bell pepper
Vegan

April

May

June

July

August

September

October

Black pepper
Vegan
Caper
Vegan
Garlic
Vegan
Ham
Meat
Olive
Vegan
Olive oil
Vegan
Onion
Vegan
Peppercorn
Vegan
Pork
Meat
Salt
Vegan
Sausage
Meat
Tomato
Vegan

May

June

July

August

September
More recipes like solyanka