Kimchi noodles
This is an easy-to-cook recipe with relatively few ingredients. Homemade kimchi makes it a great lunch with lots of flavor and a bit of spice (or a lot — depending on how much kimchi you add!).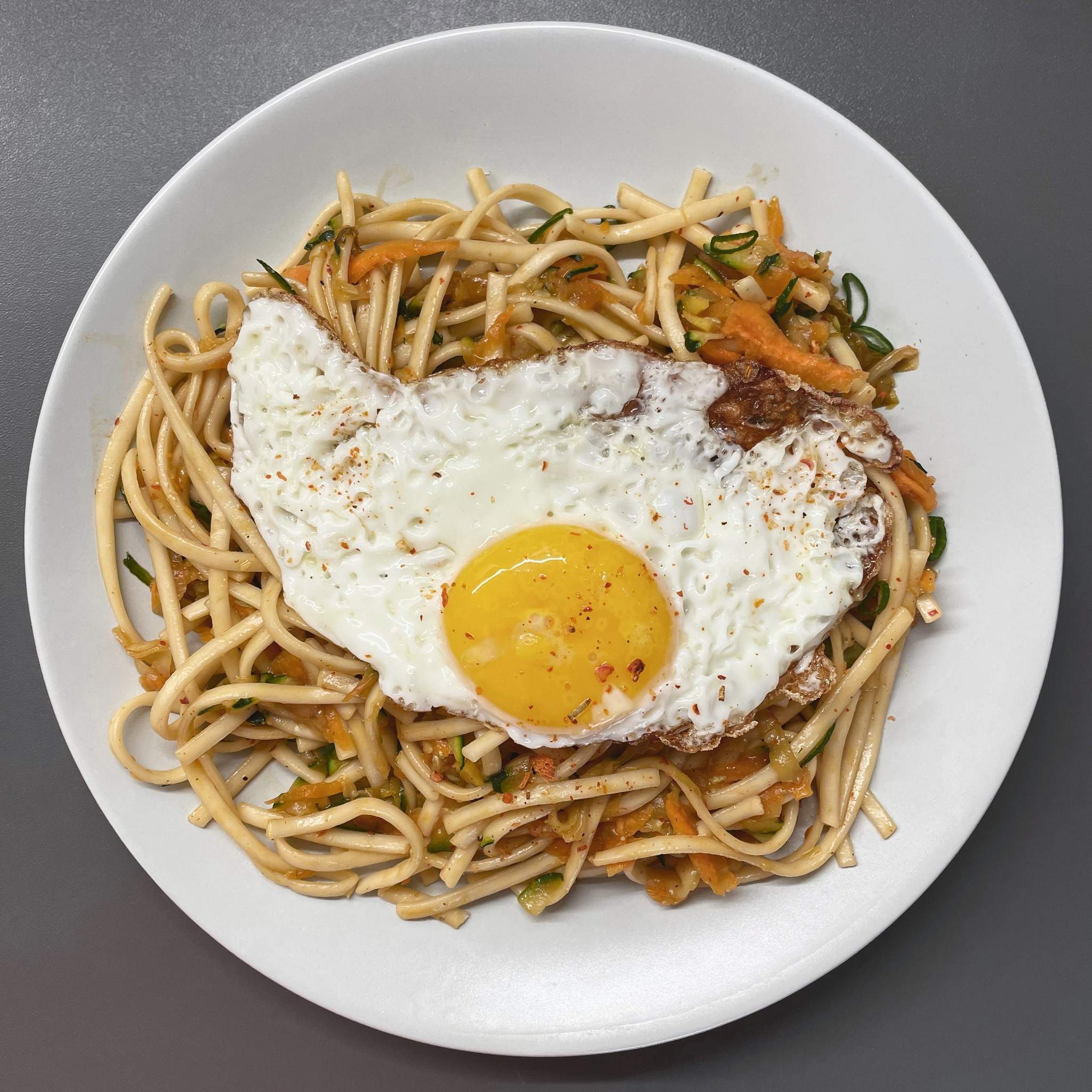 Ingredients
Yields 2 portions
For the noodles
60 g of rice noodles
150 g of kimchi
2 cloves of garlic
1 carrot
1 zucchini
olive oil
soy sauce
honey
salt
freshly ground black pepper
For serving
2 eggs
1 scallion
peanuts

roasted
Warnings
Kimchi could be non-vegan: if not labeled as vegan, it may contain fish sauce.
Soy sauce is likely not gluten-free and contains wheat.
Directions
To cook the noodles
Cook the noodles according to the instructions on the package. When ready, transfer to a colander.

While the noodles are cooking, prepare the vegetables. Kimchi: roughly chop. Garlic: cut into very thin slices. Carrot: peel and grate on a grater with large holes. Zucchini: grate on a grater with large holes.

On a big saute pan on high heat with a bit of olive oil, fry carrot and zucchini for about 2 minutes.

Add garlic, soy sauce, and honey. Mix everything and cook for a few more minutes.

Remove the pan from heat.

Add noodles and kimchi, mix everything again.

Season with salt and pepper.
To serve
Cook the eggs. On a non-stick pan on medium heat with a bit of olive oil, fry the eggs for about 4–5 minutes.

Cut scallion into thin slices.

Serve the noodles with an egg on top, sprinkled with scallion and peanuts.
Notes & tips
This recipe also works great with rice instead of noodles, though requires more time to cook.
The easiest way to peel garlic is to smash it: put a clove of garlic on a cutting board, put your chef's knife on top of it so the blade side lays on the clove, and hit the side of the knife with your hand. Now you could peel the clove.
This recipe is based on a recipe from Marley Spoon.
Explore ingredients

Ingredients explorer

Name
Kind
Season
Contains
Black pepper
Vegan
Carrot
Vegan

July

August

September

October

November

December

Egg
Vegetarian
Garlic
Vegan
Honey
Vegetarian
Kimchi
Vegan
Olive oil
Vegan
Peanut
Vegan
Rice noodle
Vegan
Salt
Vegan
Scallion
Vegan
Soy sauce
Vegan
Gluten
Zucchini
Vegan

June

July

August

September
More recipes like kimchi noodles