Kimchi
30 min, requires preparation the day before
We always loved kimchi (and all the spicy food in general) but since we watched Roy Choi's course on MasterClass and tried to make kimchi ourselves, it's opened a whole new world of flavors and possibilities. Now we always have homemade kimchi in our fridge.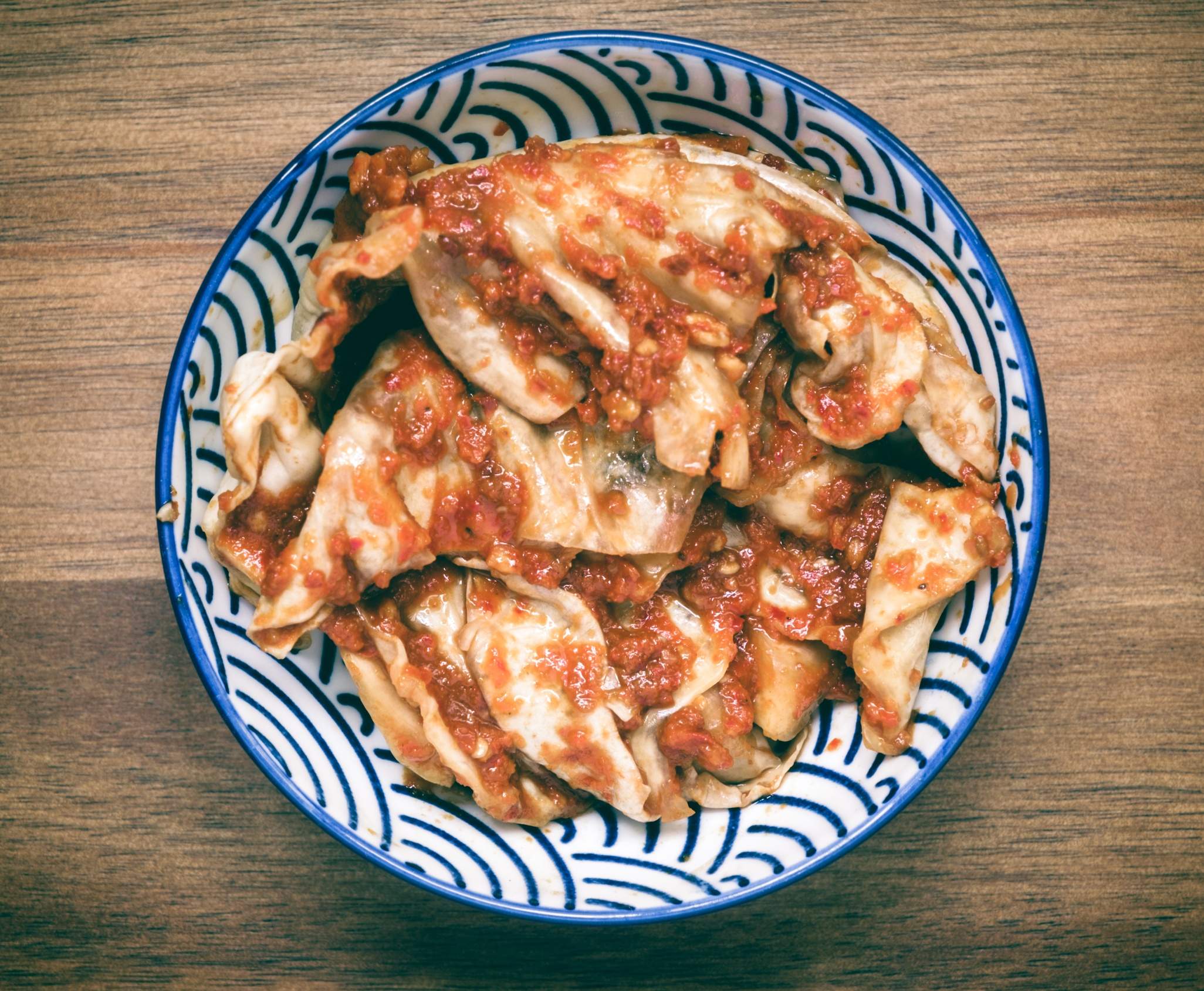 Ingredients
Yields 500 g
For the kimchi paste
1 cup of chile flakes
2 tablespoons of kosher salt
1 tablespoon of coconut sugar
2 heads of garlic
100 g of horseradish or ginger
1 onion
1 tablespoon of fish sauce
1 tablespoon of oyster sauce
2 tablespoons of vinegar
2 tablespoons of soy sauce
½ cup of water
For the kimchi
1 napa cabbage
2 tablespoons of kosher salt
water
Warnings
Soy sauce is likely not gluten-free and contains wheat.
You will need
gloves

apron

blender
Directions
To cook the kimchi paste
In a blender, combine all dry ingredients: chili flakes, salt, and coconut sugar. Mix until you have a consistent powder.

Peel the garlic, horseradish or ginger, and onion. Quarter the onion.

Add the remaining ingredients to the blender: garlic, horseradish or ginger, onion, 1 tablespoon of fish sauce, 1 tablespoon of oyster sauce, 2 tablespoons of vinegar, 2 tablespoons of soy sauce, and ½ cup of water. Mix until they form a smooth paste. Add more water if the paste is too thick.
To cook the kimchi
Fill the large bowl with water, and dissolve 2 tablespoons of kosher salt in it.

Quarter the cabbage lengthwise.

Add the cabbage to the bowl, and let it soak for at least 3 hours or overnight.

When the cabbage is slightly wilted, remove it from the water and drain well.

Using a spoon, rub the kimchi paste inside each layer of cabbage. Make sure to reach deep between layers. Rub more paste on the outside of the cabbage. It should get messy here.

Roll each cabbage quarter, and place them into a jar. Pack them well. Leave a few centimeters of space between the cabbage and the jar lead, because the fermentation will produce a bit of gas.

Leave the kimchi on the counter (but out of direct sunlight) for 2 days.

Transfer the kimchi to the fridge, and let it ferment for 2 weeks.
Notes & tips
Wear gloves and an apron, otherwise, you'll ruin your clothes and end up with burning hands.
You could kimchi (yes, it's a verb!) any kind of cabbage or lettuce. For example, try to kimchi that iceberg lettuce dying in your fridge since you made burgers two weeks ago.
Kimchi will keep forever in a sealed container in the fridge (but we're sure it won't!).
The easiest way to peel garlic is to smash it: put a clove of garlic on a cutting board, put your chef's knife on top of it so the blade side lays on the clove, and hit the side of the knife with your hand. Now you could peel the clove.
This recipe is based on Roy Choi's recipe from MasterClass.
Explore ingredients

Ingredients explorer

| Name | Kind | Season | Contains |
| --- | --- | --- | --- |
| Chile flakes | Vegan | | |
| Coconut sugar | Vegan | | |
| Fish sauce | Fish | | |
| Garlic | Vegan | | |
| Ginger | Vegan | | |
| Horseradish | Vegan | | |
| Napa cabbage | Vegan | | |
| Onion | Vegan | | |
| Oyster sauce | Fish | | |
| Salt | Vegan | | |
| Salt | Vegan | | |
| Soy sauce | Vegan | | Gluten |
| Vinegar | Vegan | | |
| Water | Vegan | | |
| Water | Vegan | | |