Shakshouka
Shakshouka makes a great brunch for a crowd of four to six people when it's cold outside, with its bright acidity and hugging warmth. The trick is to cook the eggs right but even if you overcook them a bit, shakshouka will still taste great. Serve it in a pot, so everyone could take as much as they want.
Keywords: shakshuka, chakchouka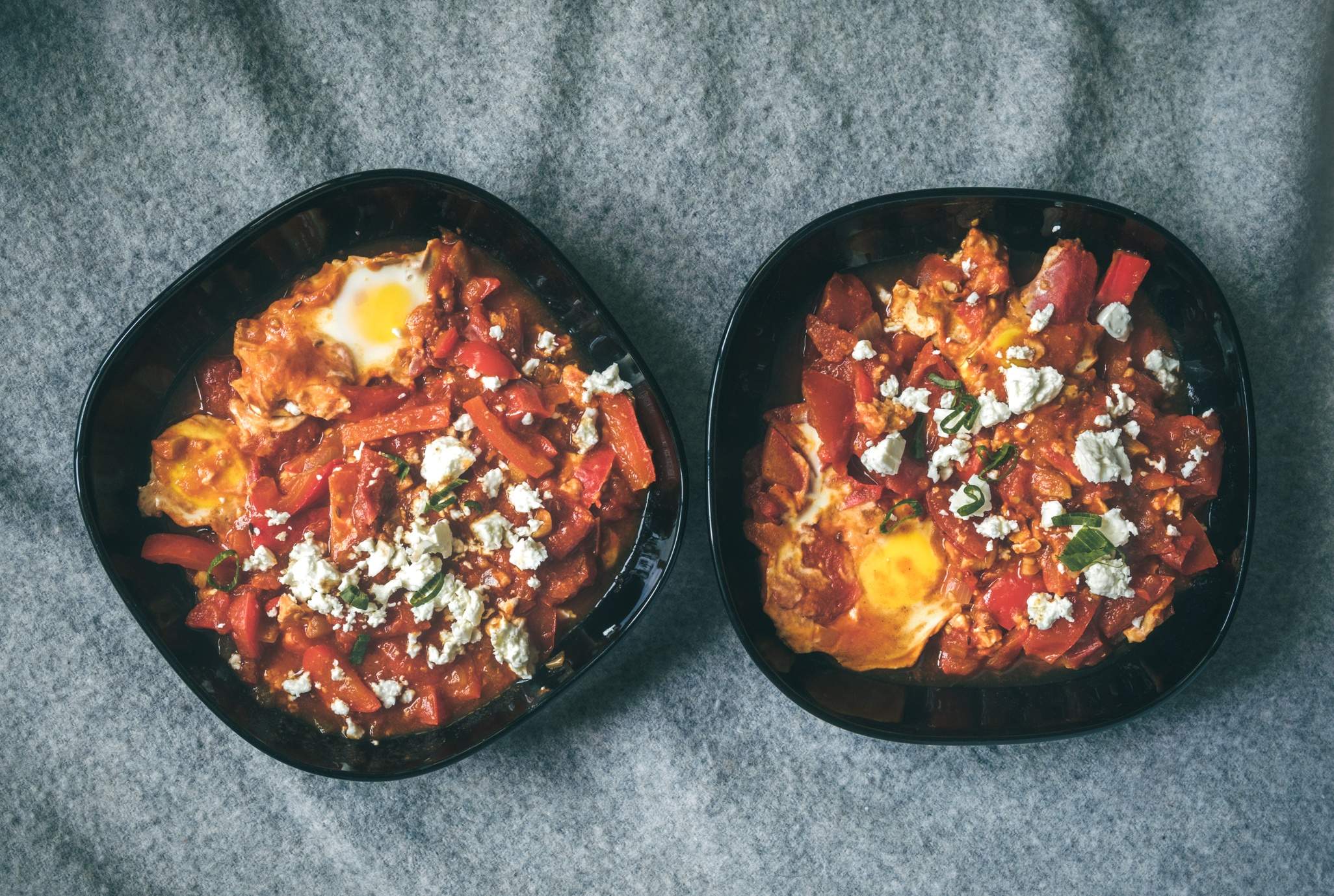 Ingredients
Yields 4 portions
1 onion
1 chile
3 cloves of garlic
1 red bell pepper
1 kg of tomatoes
2 tablespoons of tomato paste
water
olive oil
salt
freshly ground black pepper
cumin seeds
smoked bell peppers
4–8 eggs
feta cheese

for serving

1 bunch of parsley or 2–3 scallions

for serving
You will need
oven

large oven-safe skillet
Directions
Preheat oven to 190 ˚C.

Prepare the vegetables. Onion: halve, peel, and cut into medium dice. Chili: remove the seeds and thinly slice. Garlic: peel and coarsely chop. Bell pepper: remove the seeds, and cut into 1 cm squares.

Heat a large oven-safe skillet on medium heat, and add a generous amount of olive oil.

Add the onion, chili, garlic, bell pepper, and salt. Cook until the onions are transparent.

While the onions are cooking, remove the cores of the large tomatoes, and coarsely chop them.

Add the chopped tomatoes and 2 tablespoons of tomato paste to the skillet, season with ground black pepper, cumin seeds, and smoked paprika. Add water but not too much, not enough to cover the food. Bring it to simmer, and reduce the heat to medium-low. Cook for about 15 minutes, until the tomatoes soften and the liquid thickens.

Turn off the heat, and add more salt if necessary.

Using a spoon, push the vegetables to create a space for each egg. Crack the eggs into each space. Gently spoon a bit of tomato juice from the skillet over the whites, to help contain the eggs. Season each egg with a bit of salt and ground black pepper.

Carefully transfer the skillet to the oven, and bake for 6 to 10 minutes, until the egg whites are opaque and yolks have risen a bit but are still soft. The egg should move a bit when you gently shake the skillet.

Remove the skillet from the oven. Crumble some feta cheese over the shakshuka, and sprinkle with parsley or spring onions.
Notes & tips
The easiest way to peel garlic is to smash it: put a clove of garlic on a cutting board, put your chef's knife on top of it so the blade side lays on the clove, and hit the side of the knife with your hand. Now you could peel the clove.
Explore ingredients

Ingredients explorer

Name
Kind
Season
Contains
Bell pepper
Vegan

April

May

June

July

August

September

October

Bell pepper
Vegan

April

May

June

July

August

September

October

Black pepper
Vegan
Cheese
Vegetarian
Dairy
Chile
Vegan
Cumin seeds
Vegan
Egg
Vegetarian
Garlic
Vegan
Olive oil
Vegan
Onion
Vegan
Parsley
Vegan
Salt
Vegan
Scallion
Vegan
Tomato
Vegan

May

June

July

August

September

Tomato paste
Vegan
Water
Vegan
More recipes like shakshouka