Chicken birria
Birria is a typical dish of Guadalajara, Mexico (the city where Margarita was born). The original recipe calls for lamb or beef for the meat, however, this variation is Margarita's mom's recipe and has chicken instead. It is very tasty, easy to cook, and best of all, healthy in many ways.
Accompany this dish with warm tortillas when eating and enjoy!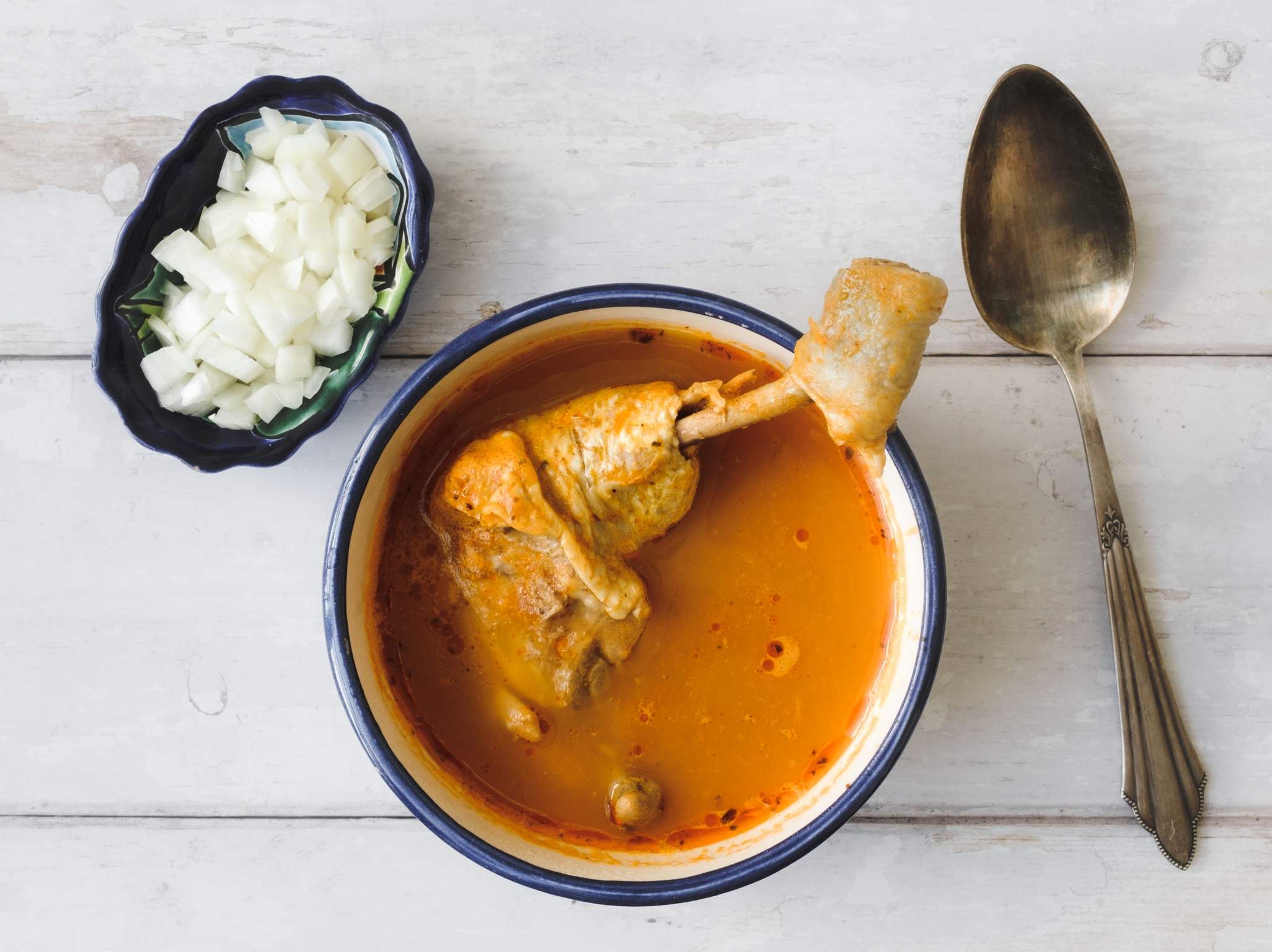 Ingredients
Yields 6 portions
full chicken
4–5 big tomatoes
6 cloves
1 small stick cinnamon
1 clove of garlic
freshly ground black pepper
oregano
salt
Directions
Rinse the chicken in cold water, and butcher it: separate legs, wings, breasts, etc.

Cook the chicken in about 2–3 liters of lightly salted water (enough to cover all the pieces of chicken), until tender.

Cut the root ends of the tomatoes.

In a different pot, cook the tomatoes in chicken broth with 6 cloves and 1 small stick cinnamon, until the tomatoes are tender.

While the tomatoes are cooking, peel the garlic.

Let the tomatoes cool down.

Transfer the tomatoes with cloves, a bit of cinnamon, and a bit of broth to a blender. Add one clove of garlic, freshly ground black pepper, and oregano. Mix until they form a smooth paste.

Add the tomato paste to the chicken, add more salt if needed, and bring to a boil.

Cook for a few minutes.
Notes & tips
Add some fresh diced onion for serving to enhance the flavor.
Choose pieces of chicken with skin when cooking to make the broth richer.
The easiest way to peel garlic is to smash it: put a clove of garlic on a cutting board, put your chef's knife on top of it so the blade side lays on the clove, and hit the side of the knife with your hand. Now you could peel the clove.
Explore ingredients

Ingredients explorer

Name
Kind
Season
Contains
Black pepper
Vegan
Chicken
Poultry
Cinnamon
Vegan
Clove
Vegan
Garlic
Vegan
Oregano
Vegan
Salt
Vegan
Tomato
Vegan

May

June

July

August

September
More recipes like chicken birria