Fusion de huevo en sombrero
This super quick breakfast is a variation of Huevos rancheros en sombrero but doesn't need frihol sauce, refried beans, charred red sauce or guacamole, so it's a good option when you only have a piece of cheese and a jar of kimchi (or any other pickle) in your fridge. A combination of melted cheese and kimchi makes it surprisingly hot and juicy — a perfect dish to wake you up in the morning.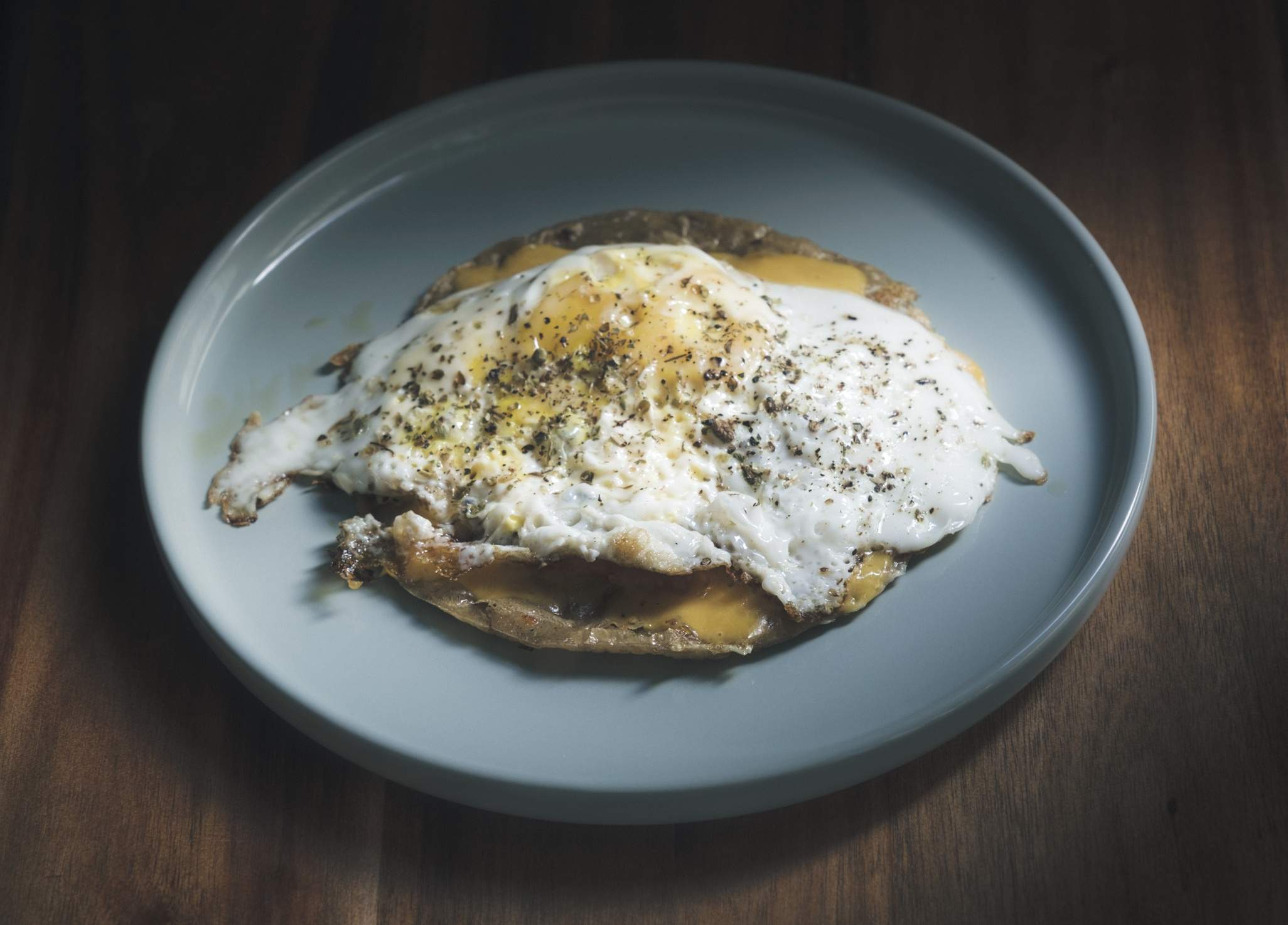 Ingredients
Yields 1 portion
1 corn tortilla
1 egg
2 slices of cheddar cheese
olive oil
salt
freshly ground black pepper
oregano
Warnings
Kimchi could be non-vegan: if not labeled as vegan, it may contain fish sauce.
Directions
Heat a medium-sized skillet with a bit of olive oil to medium-high heat.

Put a tortilla on one side of the skillet, and break an egg onto another side. Season the egg with a bit of salt, black pepper, and oregano.

While the egg and the tortilla are cooking, cut the cheese.

When the egg is almost ready, flip the tortilla, put the cheese and kimchi on top of the tortilla, and place the fried egg on top of everything.

Increase the heat to high, and cook until the tortilla is crispy on the bottom and the cheese is melted.
Explore ingredients

Ingredients explorer

| Name | Kind | Season | Contains |
| --- | --- | --- | --- |
| Black pepper | Vegan | | |
| Cheese | Vegetarian | | Dairy |
| Egg | Vegetarian | | |
| Kimchi | Vegan | | |
| Olive oil | Vegan | | |
| Oregano | Vegan | | |
| Salt | Vegan | | |
| Tortilla | Vegan | | |
More recipes like fusion de huevo en sombrero