Charred red sauce
A classic Mexican must-have as a complement to any main dish.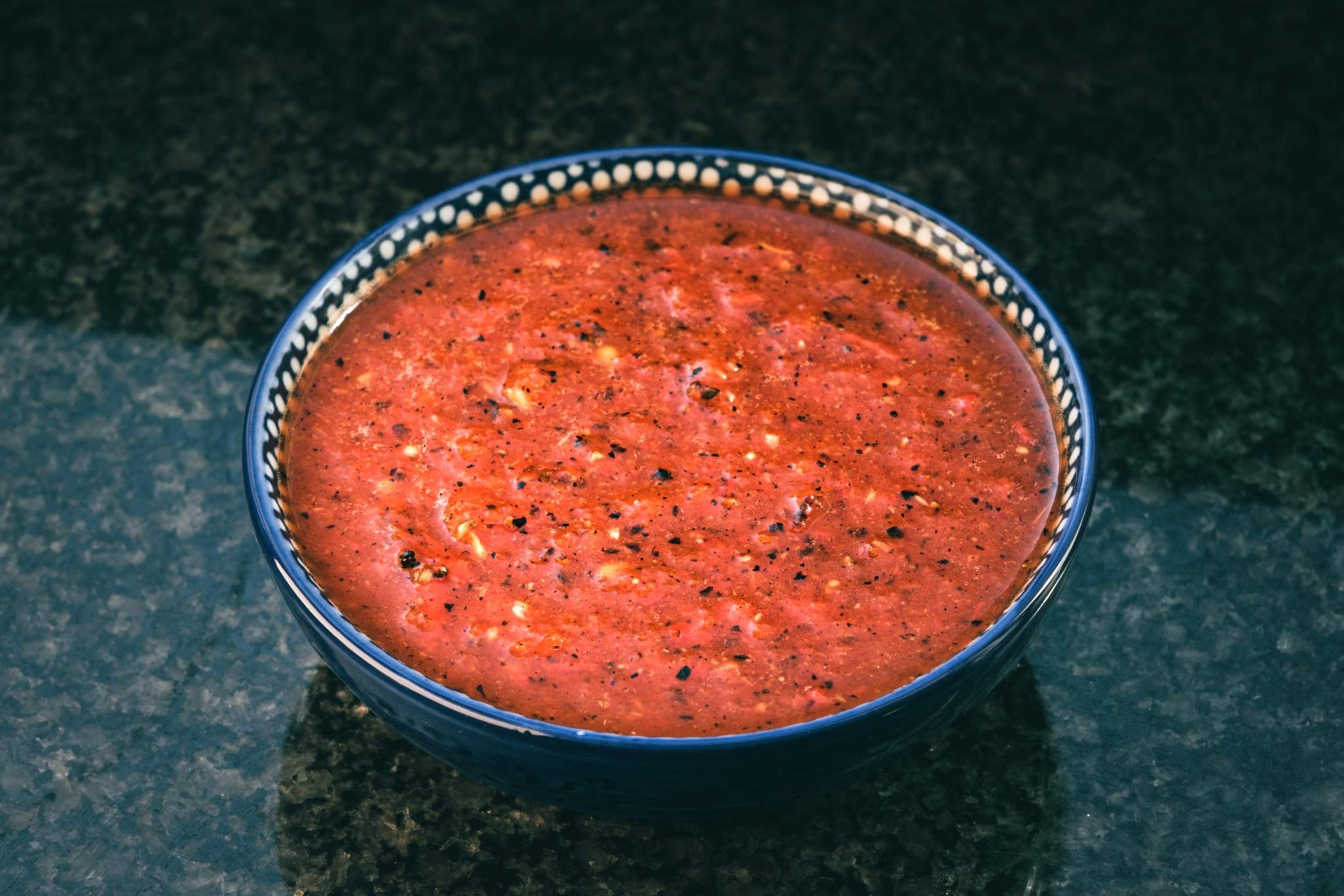 Ingredients
Yields 200 ml
2 tomatoes
2 mildly spicy chiles
1 onion
3–4 cloves of garlic
chile flakes

optional

salt
You will need
blender or food processor
Directions
Prepare the vegetables. Tomatoes: If they are small and juicy, leave them whole; otherwise halve. Chilies: leave as is. Onion: peel and halve. Garlic: peel.

Char all the vegetables without adding any oil on a skillet, until they softened a bit. Don't worry if they look burned, this will add an amazing flavor to our sauce!

Transfer the vegetables onto a plate, and let them cool down a bit.

When the vegetables are cold enough to touch them, roughly cut them, and remove the roots of the tomatoes and chilis.

Puree the vegetables using a hand blender or a food processor until you have a smooth paste (but not too smooth, some texture is nice to have here).

Add some chili flakes if not spicy enough, and season with salt to your taste.
Notes & tips
Get a Molcajete and make your sauce as a true Mexican señora if you want to go real! ; — )
We usually make this sauce with dried jalapeños or whatever fresh spicy chile we have.
The easiest way to peel garlic is to smash it: put a clove of garlic on a cutting board, put your chef's knife on top of it so the blade side lays on the clove, and hit the side of the knife with your hand. Now you could peel the clove.
Explore ingredients

Ingredients explorer

Name
Kind
Season
Contains
Chile
Vegan
Chile flakes
Vegan
Garlic
Vegan
Onion
Vegan
Salt
Vegan
Tomato
Vegan

May

June

July

August

September
Recipes with charred red sauce
More recipes like charred red sauce