Klatz curry
This stew was inspired by the "golden poularde" dish from Umami in Berlin but significantly simplified for easy cooking at home. It has the main ingredients of the original dish: chicken, pumpkins, potatoes, carrots, and coconut milk curry. The main difference is the chicken: instead of crispy breaded chicken we use shredded boiled chicken breast because we usually buy a whole chicken and cook the body in water for soups and we have the cooked meat ready, we dropped the sweet potatoes because we're not fans, and we dropped the salad and the rice because it's too much trouble to make them on a regular work day. This is a perfect autumn recipe!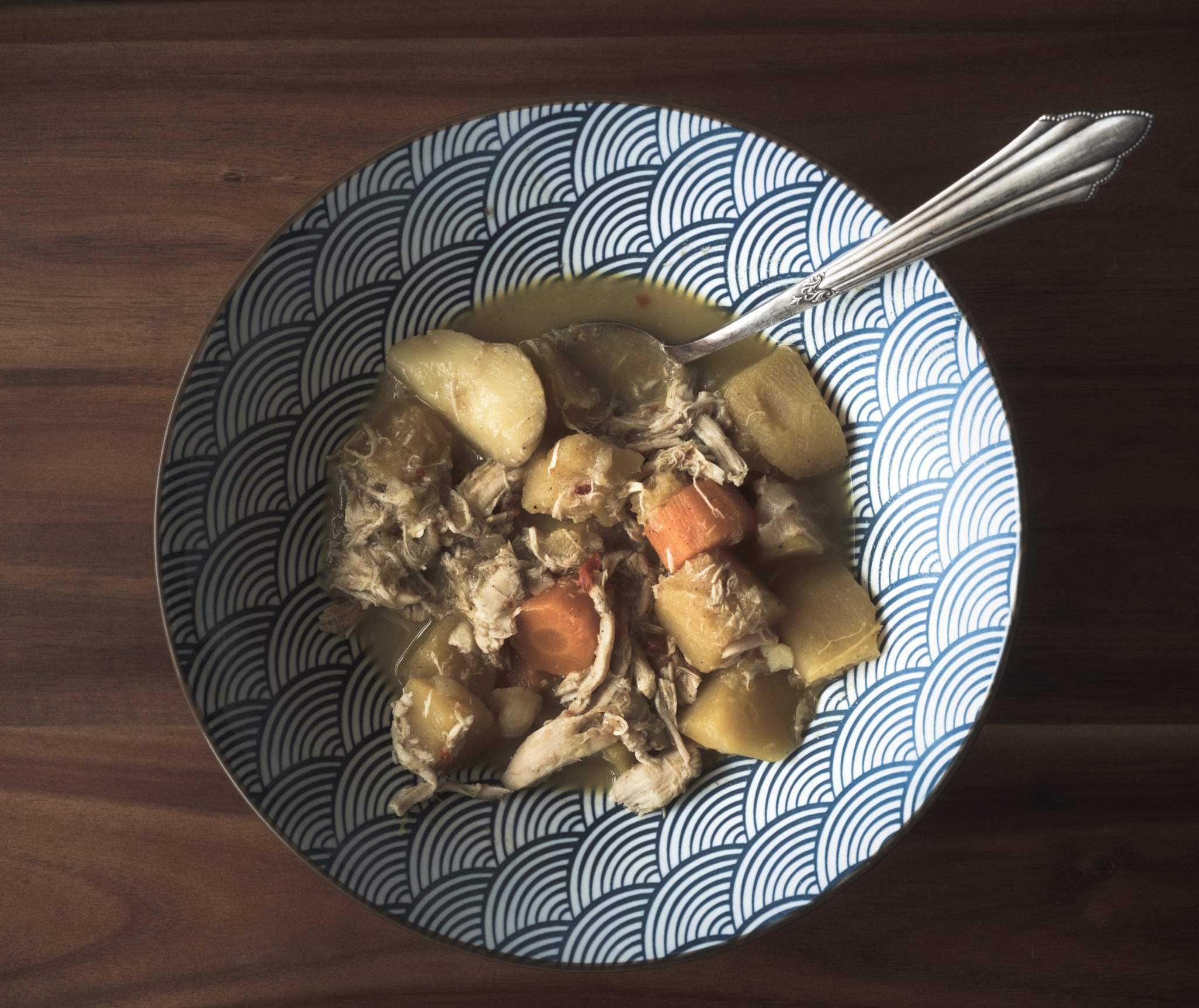 Ingredients
Yields 6 portions
1 whole chicken breast

boiled

1 onion
1 chile
4 large potatoes
3 carrots
1 small pumpkin
1 can of coconut milk
1 teaspoon of ground cinnamon
½ teaspoon of curry powder
½ teaspoon of ground nutmeg
salt
olive oil
You will need
dutch oven or medium-sized pot
Directions
Prepare the vegetables. Onion: peel, halve, and cut it into 1/2 cm slices. Chili: halve, remove the seeds, and thinly slice. Potatoes and carrots: peel if needed, and cut into large chunks. Pumpkin: peel, remove the seeds, and cut into medium-large chunks.

Cover the bottom of a dutch oven with olive oil, and start warming it on medium heat.

Sauté onion and chili in the dutch oven with a bit of salt, for 2–3 minutes, until transparent.

Add all the vegetables, increase the heat to medium-high, and cook until the vegetables soften a bit.

While the vegetables are cooking, shred the chicken.

Add the chicken, and coconut milk, add 1 teaspoon of ground cinnamon, ½ teaspoon of curry powder, ½ teaspoon of ground nutmeg; and stir thoroughly.

Add enough boiled water to cover about 2/3 of the height of the vegetables.

Cook covered until the vegetables are very soft.

Add more salt if necessary.
Notes & tips
Feel free to serve it with rice if you want to bother cooking it — won't harm.
Explore ingredients

Ingredients explorer

Name
Kind
Season
Contains
Carrot
Vegan

July

August

September

October

November

December

Chicken breast
Poultry
Chile
Vegan
Cinnamon
Vegan
Coconut milk
Vegan
Curry powder
Vegan
Nutmeg
Vegan
Olive oil
Vegan
Onion
Vegan
Potato
Vegan

January

February

March

April

May

June

July

August

September

October

November

December

Pumpkin
Vegan

September

October

November

Salt
Vegan
More recipes like klatz curry