Klatz pie
This recipe was inspired by shepherd's pie and bibimbap. The filling is quite similar to our faux bibimbap recipe, and covered with a thick layer of creamy mashed potatoes with a golden crust.
Keywords: shepherd's pie, cottage pie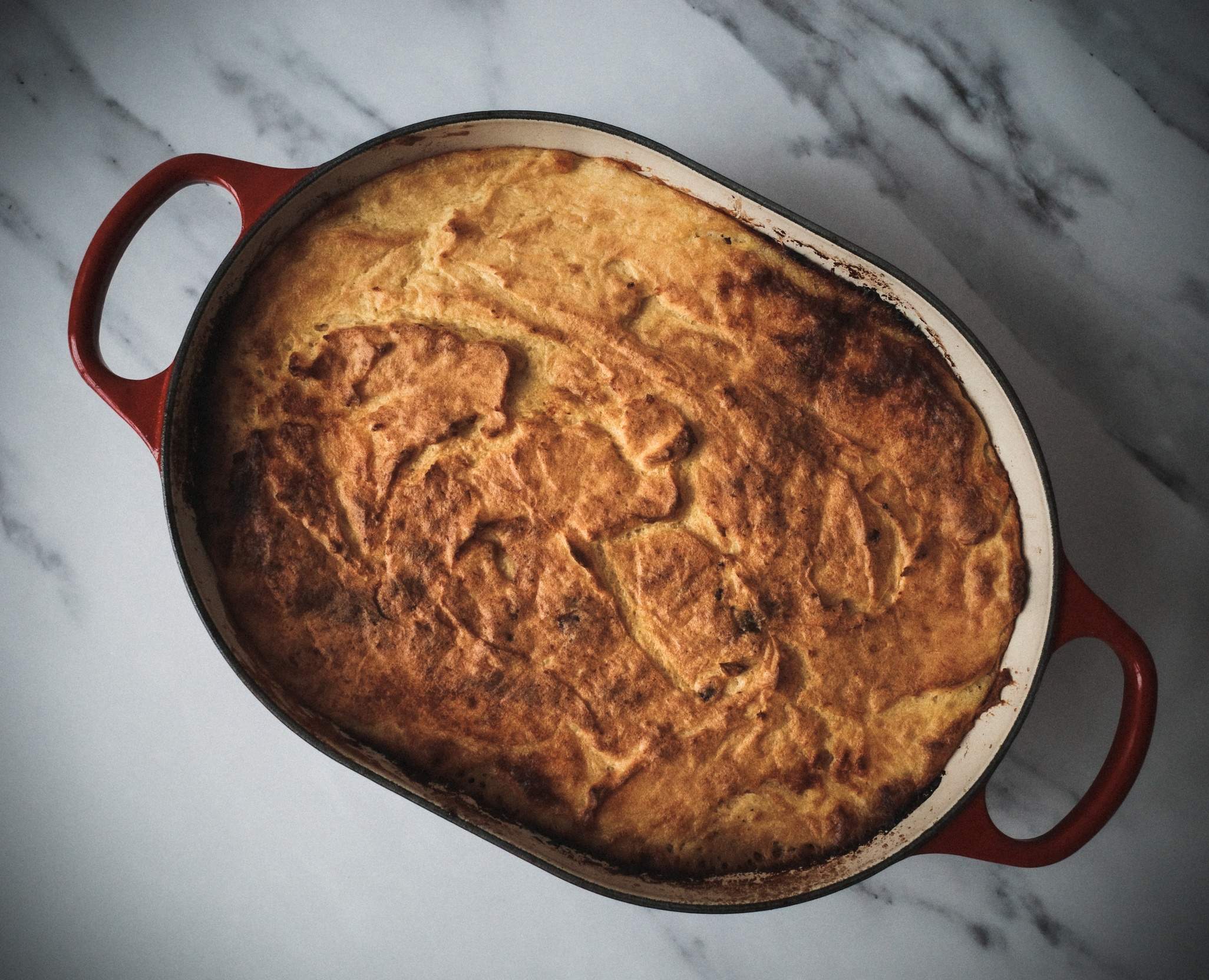 Ingredients
Yields 6 portions
For the mashed potatoes
1 kg of floury potatoes
2 bay leaves
4 tablespoons of butter
1 egg
1 cup of milk
smoked paprika powder
salt
freshly ground black pepper
For the filling
1 red onion
6 cloves of garlic
2 chiles
2 carrots
1 zucchini
1 handful of green beans
1 handful of sugar peas
2 teaspoons of kimchi paste
200 g of ground beef
200 g of ground pork
soy sauce
salt
Warnings
Soy sauce is likely not gluten-free and contains wheat.
You will need
large oven-safe skillet or dutch oven
Directions
To cook the mashed potatoes
Peel the potatoes, cut them into large chunks of similar size, and cook in water with 2 bay leaves and salt, until tender.

Keep about 1 cup of potato cooking liquid, and discard the remaining cooking liquid.

Mash the potatoes using a potato ricer or masher, add 1 egg, a few tablespoons of butter, a splash of milk, and salt. Keep adding more cooking liquid and milk and stirring until the potatoes are creamy.

Add more salt if needed.
To cook the filling
Turn on the oven to 220 ˚C (so it's hot enough by the time we're ready to bake the pie).

While the potatoes are cooking, prepare the vegetables. Onion: peel, halve and cut into thin slices. Garlic: peel and cut into 1/2 cm pieces. Chiles: halve, remove the seeds, and thinly slice. Carrots: peel (if needed), halve, and cut into 1/2 cm slices. Zucchini: halve, and cut into 1/4 cm half-moons. Green beans: cut the ends, and cut into 3–4 cm pieces. Sugar pees: halve.
Dilute 2 teaspoons of kimchi paste in 1/4 cup of water.

On a medium-sized skillet sat on medium heat with olive oil, sauté onions, garlic, and chili, until the onion is transparent, for a few minutes.

On a second, larger oven-safe skillet sat on medium-high heat with a bit of olive oil, start frying carrots, until they start to soften, for about 5 minutes.

Add the ground meat to the small skillet, stir, and keep cooking until there are no pink spots in the meat.

Add the zucchini, and green beans to the large skillet, and cook for another 5 minutes.

Add the sugar peas to the large skillet, and cook for a few more minutes.

Add the diluted kimchi paste and a splash of soy sauce to the meat, reduce the heat to low, and cook for about 5 minutes. Remove the skillet from heat.

Add the meat to the large skillet, thoroughly mix everything, and add more salt if needed.
To cook the pie
Put the mashed potatoes on top of the filling in the large skillet in an even layer.

Bake the pie uncovered in the oven until golden, for about 40 minutes.
Notes & tips
The easiest way to peel garlic is to smash it: put a clove of garlic on a cutting board, put your chef's knife on top of it so the blade side lays on the clove, and hit the side of the knife with your hand. Now you could peel the clove.
Explore ingredients

Ingredients explorer

Name
Kind
Season
Contains
Bay leaf
Vegan
Bean
Vegan
Beef
Meat
Black pepper
Vegan
Butter
Vegetarian
Dairy
Carrot
Vegan

July

August

September

October

November

December

Chile
Vegan
Egg
Vegetarian
Garlic
Vegan
Kimchi paste
Meat
Gluten
Milk
Vegetarian
Dairy
Onion
Vegan
Paprika powder
Vegan
Pea
Vegan
Pork
Meat
Potato
Vegan

January

February

March

April

May

June

July

August

September

October

November

December

Salt
Vegan
Salt
Vegan
Soy sauce
Vegan
Gluten
Zucchini
Vegan

June

July

August

September
More recipes like klatz pie