Pink chicken stew
This bright stew has a nice acidity, thanks to green bell peppers and olives, and tender chicken thighs or legs. It takes time to brown the chicken on all sides before adding it to the stew, but it makes the skin nice and tasty. Could be equally great for a family dinner, or for a celebration with friends.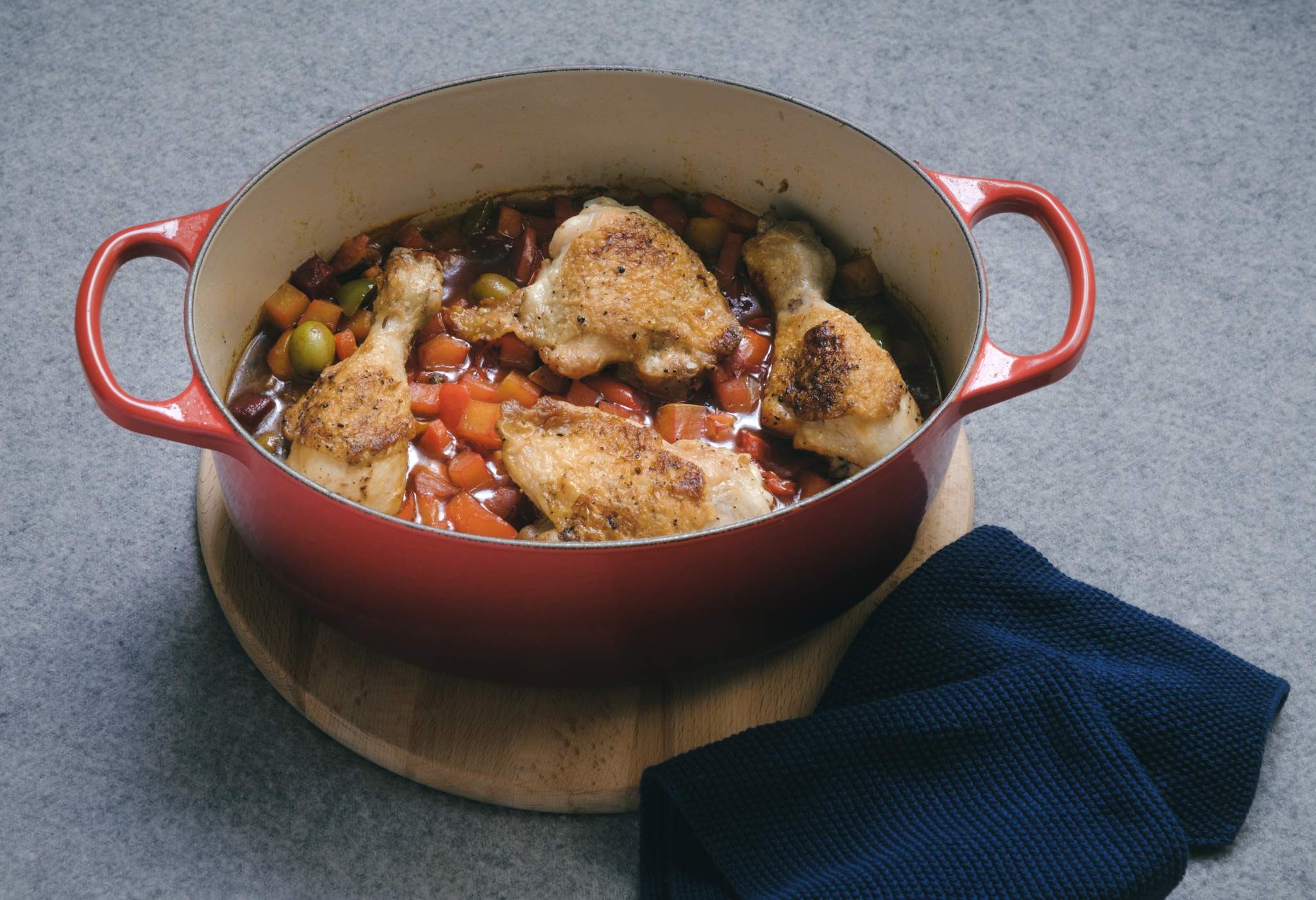 Ingredients
Yields 4 portions
4 chicken thighs or 2 chicken legs
1 onion
1 chile
4 cloves of garlic
5–6 large potatoes
1 large beetroot
2 carrots
1 red bell pepper
½ green bell pepper
olives
2 big tomatoes
500 ml of chicken stock
freshly ground black pepper
ground cumin seeds
cumin seeds
black peppercorns
smoked paprika powder
curcuma powder
chile flakes
kosher salt
olive oil
Directions
Before you start: unfreeze chicken stock if frozen.
Rinse and dry chicken thighs. Season with salt and black pepper on both sides and put back in the fridge for several hours.

Prepare the vegetables. Onion: peel, halve, and cut it into 1/2 cm slices. Garlic: peel, and cut into 1/2 cm pieces. Chili: halve, remove the seeds, and thinly slice.

In a dutch oven sat on medium heat, with a generous amount of olive oil, sear the chicken on all sides, until brown and crisp.

While the chicken is browning, prepare the rest of the vegetables. Potatoes, beets, and carrots: peel (if needed), and cut into 2 cm cubes. Bell peppers: remove the seeds, and cut into 1×4 cm stripes. Tomatoes: remove the roots, and cut into 3 cm cubes.

Remove the chicken from the dutch oven.

Sauté the onion, garlic, and chili in the dutch oven until transparent and starting to brown.

Add the potatoes, beets, and carrots, and cook for 5 more minutes, stirring occasionally.

Add the bell peppers, olives, and more salt, and cook for 5 more minutes, stirring occasionally.

Add the tomatoes, and chicken stock. Add ground cumin, cumin seeds, black peppercorns, smoked paprika powder, curcuma powder, and chili flakes. Bring to boil, lower the heat to low, place the chicken on top of the vegetables, and cook covered until the vegetables are tender.

Add more salt if needed, and serve.
Notes & tips
The easiest way to peel garlic is to smash it: put a clove of garlic on a cutting board, put your chef's knife on top of it so the blade side lays on the clove, and hit the side of the knife with your hand. Now you could peel the clove.
Explore ingredients

Ingredients explorer

Name
Kind
Season
Contains
Beetroot
Vegan

January

February

March

September

October

November

December

Bell pepper
Vegan

April

May

June

July

August

September

October

Bell pepper
Vegan

April

May

June

July

August

September

October

Black pepper
Vegan
Carrot
Vegan

July

August

September

October

November

December

Chicken leg
Poultry
Chicken stock
Poultry
Chicken thigh
Poultry
Chile
Vegan
Chile flakes
Vegan
Cumin seeds
Vegan
Cumin seeds
Vegan
Curcuma powder
Vegan
Garlic
Vegan
Olive
Vegan
Olive oil
Vegan
Onion
Vegan
Paprika powder
Vegan
Peppercorn
Vegan
Potato
Vegan

January

February

March

April

May

June

July

August

September

October

November

December

Salt
Vegan
Tomato
Vegan

May

June

July

August

September
More recipes like pink chicken stew